Some of you have already heard about aoi ashi or blue lock or both.
These are the 2 most interesting soccer manga of the moment, and maybe successors of the famous sport manga captain Tsubasa. So we will see what each one is talking about
Synopsis Soccer manga
Ao Ashi
Ashito Ao is a third-year middle school student from Ehime. He meets Tatsuya Furuda, a coach for the "J Youth League". Although he is still a rough player, Ashito shows incredible potential and is invited to join his team's Tokyo try-outs by Fukuda. The story begins about the boy who will revolutionize Japanese football.
Blue Lock
The Japanese Football Association evaluates the current state Japanese soccer and hires Jinpachi Ego, an eccentric coach. This will help them achieve their goal of winning the World Cup. Jinpachi creates the Blue Lock, a prison-like facility that houses three hundred talented strikers from different high schools across Japan. Blue Lock's sole survivor will be the national team's striker. Those who lose in the battle against Blue Lock shall be expelled from the team.

Yoichi Isagi sam is part of this project. He is a striker from his high school who had failed to get his team to the national tournament. He wondered if it would have been better to let his teammate score on their own than to pass to him. Yoichi uses the Blue Lock Project as a golden opportunity to clarify his doubts and pursue his ultimate goal: to become the best striker in the game and lead Japan to World Cup glory.
Our Reviews of soccer manga
Blue lock Review
Setting the scene
The story starts with Japan's exit from the 2018 FIFA World Cup. This causes a member the Japanese Football Union (JFU) to create a program that scouts high school athletes and will start training for the 2022 Cup.
Ego Jinpachi is their "coach". Ego Jinpachi plans to "destroy Japanese football" through a radical new training program. He will place 300 young strikers into a prison-like facility called Blue Lock, and then put them through intense training that aims to make him "the greatest egotist striker in the world."
At first, this concept seemed straightforward enough. It seemed like any other story about a sports team where you are the main character. It will have tension, the players will compete, and you will get caught up in the moment. But I quickly realized that this was different than the sports animes I had seen.
The strengths of Blue Lock
While a lot anime focus on friendship and team building, this story is not the same. This is where the manga's psychological side comes in.
Ego stated "Those who lose at Blue Lock will be permanently barred from Japan's national team."
He told them in the first chapter that their football careers should be over once they enter the facility.
It could be that a survival game, players leave the game if they don't respect the criteria. They must fight for their rights and be self-sufficient. This allows for the display of human nature.
We see the characters' determination to improve themselves and each have their own specialties. The other players can either be obstacles or stepping stones to the top.
Isagi Youichi is, of course, the "main character." This is because he is the character we most closely follow in the story. Although he might be the last striker at the end, there are many amazing players in Blue Lock. One can only hope that something else happens.
Isagi Youichi (forward) received an invitation from the program shortly after his team lost the opportunity to go to Nationals. This character passed the responsibility to his less-skilled teammates –who failed to attempt to win the game-changing goal himself.
He was the first one to move towards Blue Lock and his growth so far has been fascinating to watch and he is completely different than the boy who handed a ball to his fellow teammate at the beginning. Isagi is a great example of what can happen in an environment where there is a goal.
Our verdict
This manga's story isn't the only thing that is impressive. The art is amazing and really enhances the enjoyment of the story. The characters' auras and their shooting goals are drawn in such a way as to add to the story's intensity. One thing I can tell you is to pay attention to your eyes when reading this article. A lot of thought goes into their design.
This manga would be great if it were ever made into an anime.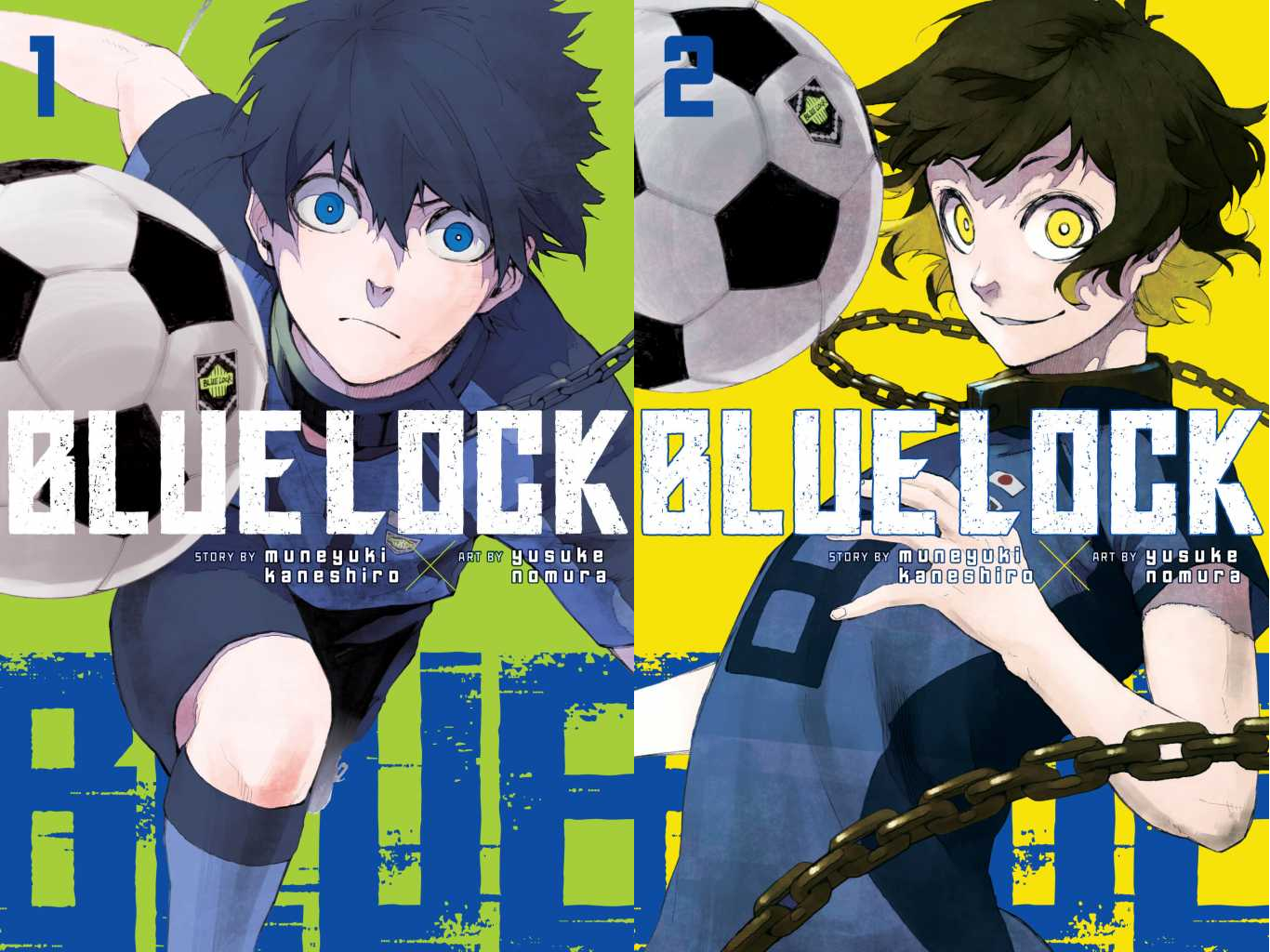 Ao Ashi Review
Written and drawn by Yûgo Kobayashi, Ao Ashi is in publication since 2015 in Japan. In fact, the series won the 65th Manga Awards in 2019, one of the most prestigious awards in the archipelago.
Setting the scene
The title described itself several times as a mix between shōnen on the soccer field and a seinen off it. And I can say that indeed, you feel this very "serious" and seinen aspect quickly. The young Ao does not have an easy life outside the fields.
Indeed, we don't know too much about it, but at the bend of some boards, we notice that Ao's family doesn't seem to be very well off and the young man plays with worn out and perforated shoes. In order to participate in the selection to which Ao has just received invitation, his older brother entrusts him with all his hard-earned savings to go to Tokyo.
Alone and stressed, the young man doesn't know which sauce he will be eaten. His dream, to reach the J-League, the highest level of soccer in Japan, could be overturned forever!
Fortunately, on the spot, he quickly meets a friendly soul who allows him to go to the tests with a little less heavy heart.
Ashito soon realizes that the tests was hard. The greatest talents of his age surrounded him, the coaches of the Tokyo City Esperion team spotted all of them and all of them promised to a great future in the J-League!
Ashito is not ridiculous though! He is average in the physical tests and competes with his fellow players.
When the second phase of the test begins, the manga makes a very appreciable turn and concentrates on the soccer whereas in the first part, the story focused on Ao and his life, a little tormented.
The strenght of Ao Ashi
Ao Ashi is a mix of different genre shonen seinen scice of life.
When you see Ashito facing his challenges, you realize that the professional soccer league is not easy and being a professional player requires a lot of investment.
Unlike any other soccer manga, this one is more grounded in reality, teaching you what the sport is really like.
Most of us have watched Captain Tsubasa, however, can you give me one soccer rule that we have learned?
Even Blue Lock is a good shonen manga, but if we take away soccer and put basketball instead, the scenario would still be valuable.
Our Verdict
Ao Ashi remains in our opinion the manga that reflects the most this sport in this decade
Comparison Blue lock vs Ao Ashi
Just with the synopsis, we can perceive some differences in the 2 mangas
While Ao Ashi takes a lighter start, Blue Lock tries to break the codes by forcing its universe and the challenge to come.
Blue lock adopts a more competitive side of the thing while Ao Ashi certainly tried but did not succeed in bringing out this side of rivalry that we can find in the other. However, this manga managed to be more realistic and that's what makes its strength.
The 2 mangas have a very different approach and will have their fan base. However, in our opinion Blue Lock has more potential and will become a pillar in the years to come.
Winner : Blue Lock
Check out : Our blue Lock review vol 3 & 4
if sports anime interest u, we will suggest you top 5 sport anime.